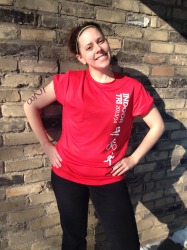 The first thing you should know before reading this is that I am not what you'd call an "athlete." Not even close. In fact, the only non-participation sport trophy I ever received growing up was for bowling.
The most physically taxing activity I did in high school was competitive marching band (where I somehow managed to dislocate my kneecap).
So imagine everyone's surprise when I completed my second indoor sprint triathlon last weekend. But as my husband congratulated me upon crossing the finish line, I blurted out "Thanks, but I'm actual just happy about how I did on the bike." "I thought the bike was the easy part?" he asked. I laughed because, that's exactly what I said two months ago after stepping off a spin bike and tiredly wobbling down to the treadmill during my first race.
You see, this past fall, after three years of running full-time for exercise, my joints needed a break from the miles I was logging each week. I figured signing up for an indoor triathlon would be a good excuse to stay active in the winter and give me a reason to focus on cross training.
I found a pool that didn't require a gym membership at a local community center and began swimming laps during my lunch break (which, by the way, was much more difficult and exhausting than I remember). I even continued to run a few miles during the week to keep my legs in shape.
The night before my race, I felt awesome. I figured even though I hadn't technically been on a bike, my legs had enough conditioning from my other workouts to keep up.
Boy, was I wrong.There is a reason why people say triathlons are "won or lost on the bike."
While the swim went just as expected, I knew I was in trouble with the bike almost immediately. Because this race was timed, I had no way of escaping a single second of the required 30-minute ride. What should have been fairly easy 10 – 12 miles became an exhausting and disappointing 7.8-mile trip.
My legs were on fire and completely useless for the running portion of the race. In fact, I barely managed two miles in 20 minutes when I fully expected to complete 2.5. While I was really proud that I finished the race, I wasn't proud of my performance.
With another (and longer) indoor sprint already on the books for January, I knew I needed to do some serious training. After stumbling across Surge Cycling via Facebook, I decided to try it out.
I'll be the first to admit I was a little self-conscious walking into the studio. Who wouldn't be? I don't care who you are or how awesome of shape you're in: when you start a new program and have no prior experience, it's intimidating. As I found the settings for my bike, I just hoped I could blend in.
Maybe that's why I immediately loved that the lights went low and the music was loud. Within a few minutes, everyone in class was getting in their zone and I could concentrate on just listening to the instructor and learning the positions.
My legs were burning within 10 minutes, my body was dripping with sweat within 30 and I was hooked before the clock reached 60.
I initially decided on two or three classes a week but soon was signing up for four or five. The workouts were intense, challenging me mentally and physically, pushing me past barriers I never thought I could conquer.
Over the next eight weeks, I learned how to ride with good form, how to pace myself over the course of class and how to maximize my energy on both sprints and hills.
Within just two months, I could already tell a difference in how my body moved and felt. Even my swimming was easier as my legs could provide more power for me through the water. By the time January rolled around, I couldn't wait for my second race.
How good was it? Well, the numbers don't lie. I managed all 12 miles in just over 19 minutes. And I shaved 7 seconds off my per-mile pace during the run.
So what have I learned the last few months? I'd say the biggest thing I've come away with is my appreciation for spinning. It isn't just for people wanting to be a faster or stronger biker. It's also for people like me that want to be a better overall athlete.
Because today, after all these years, I finally feel I've earned the right to call myself one.